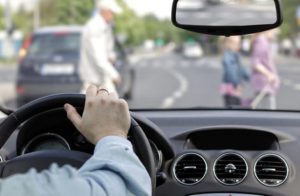 After years of rather steady decline, pedestrian deaths jumped 9.5 percent last year to their highest level since 1995. The total is even higher in Jacksonville and some other Florida cities, where there are generally fewer walkers.
Based on preliminary figures from the first half of 2016, the total may increase by double digits this year, setting another record high. Observers say that distracted driving and road design are largely to blame. America Walks Executive Director Kate Kraft said the proliferation of smart devices have created a "perfect storm" of distracted driving, and the Government Accountability Office states that streets are basically designed to quickly move vehicle traffic at the expense of pedestrian safety.
Many cities have vowed to make streets safer for walkers, but change may not come quickly, largely because wider sidewalks cost about $8 million a mile.
Injury Causes
Most pedestrian-auto collisions occur in non-crosswalk areas, where traffic tends to move faster. That statistic is an ominous one for walkers, because speed is one of the leading factors in injury severity. In fact, the serious injury rate is only about 10 percent if vehicles are travelling slower than 20 mph, and it skyrockets to 90 percent if the cars are moving at least 45 mph. Some serious injuries include:
Neck and Spine Injuries: Vehicle occupants have airbags and seatbelts to keep them in place during collisions, but pedestrians are nearly always thrown great distances, especially in higher-speed collisions.
Blood Loss: When they slam into the ground or pavement, internal organs jostle against each other and very often begin leaking profusely.
Broken Bones: Typically, doctors must use metal attachments during corrective surgery to set the broken bones, and this highly-invasive technique often means severe pain and extended physical therapy.
Victims who suffer serious injuries are entitled to compensation for both economic damages, such as lost wages, and noneconomic damages, such as loss of consortium (companionship).
Crash Causes
Punitive damages are often available as well, if there is clear and convincing evidence that the tortfeasor (negligent driver) consciously disregarded the safety of others. Since many drivers should not get behind the wheel because they are dangerously impaired, punitive damages are often appropriate in many serious car crash cases. The global Road Safety Partnership has identified three types of impairment:
Alcohol: As little as one drink impairs motor skills, affects decisionmaking capacity, and basically makes it unsafe for people to drive.
Drugs: Several years ago, poisoning surpassed motor vehicle collisions as the leading cause of injury-related death in the United States, because both legal and illegal drugs are quite powerful and readily available.
Fatigue: Driving after eighteen consecutive hours without sleep is like driving with a .08 BAC, which is above the legal limit in Florida.
The three forms of impairment, along with distracted driving, are responsible for most vehicle collisions in the United States. By definition, distracted driving can be cognitive (taking your mind off driving), manual (taking a hand off the wheel), and/or visual (taking your eyes off the road). Cellphones combine all three kinds of distraction.
Team Up with a Savvy Lawyer
Florida streets are not really safe for pedestrians. For a free consultation with an aggressive personal injury attorney in Orlando, contact Reed & Reed. From our office in Brandon, Reed & Reed helps clients in Tampa, New Tampa, Plant City, East Hillsborough County and throughout the state of Florida.
Resource:
fairwarning.org/2016/10/pedestrians-cyclists/